Former Pastor Suggests Christians Should Fight Gay Rights With Guns
Pretty sure Jesus wouldn't be into that.
WOW! This "call to arms" puts gays at risk everywhere now. LGBTi PPL - get training and get your concealed carry licenses. Here's how:
http://www.pinkpistols.org/about-the-pink-pistols
Gun owners AND Concealed Carriers are GROWING in the LGBTi community!
https://www.facebook.com/gaysgunsArticle Re-post from the Advocate
In a video rant, former pastor Joshua Feuerstein held up a semiautomatic assault rifle and encouraged Christians to 'take a stand' for their right to discriminate against LGBT people. 
Christian evangelist and social media personality
Joshua Feuerstein
is taking aim at marriage equality — literally.
Feuerstein ended a recent video rant posted to his Facebook page by holding up a semiautomatic assault rifle and encouraging his followers to fight for their "First Amendment right to refuse" recognition of marriage equality with their Second Amendment right.
In the video, which has been viewed more than 5 million times since it was uploaded to social media July 9, Feuerstein claims the recent U.S. Supreme Court ruling legalizing same-sex marriage nationwide is "not about equal rights" but "about reconstitutionalizing a term so that now it opens up the door for the left and the liberals to come after Christianity."
He then proceeds to inaccurately report incidents as his proof that LGBT equality is an attack on Christianity. He cites the case involving the bakery Sweet Cakes by Melissa, which had been ordered by an Oregon state agency to pay $135,000 in damages to lesbian couple Rachel and Laurel Bowman-Cryer after the owners refused to bake a cake for the couple's wedding, claiming it would violate their religious beliefs.
However, Feuerstein does not mention that Sweet Cakes owners Aaron and Melissa Klein did more than simply refuse service to the couple. They posted a copy of the couple's legal complaint on the Sweet Cakes Facebook page with their home address visible, which led to a wave of harassment for the couple, which included hateful comments and threats on social media and news websites.
He also highlights another story that gained much media attention last October after ordained ministers Donald and Evelyn Knapp, who own the Hitching Post Wedding Chapel in Coeur d'Alene, Idaho — which is also registered as a for-profit business — said they were worried about facing legal action after refusing to host a same-sex wedding. Feuerstein falsely claims the Knapps are being told if they "don't marry gay couples [they face] arrest and imprisonment." (We debunked that claim here; no formal complaint was ever filed against the Knapps, although they have sued the city.)
"You see what's beginning to go on here? You see how they're beginning to paint Christians? I've been telling you guys for a long time. It's happening," the evangelist says before launching into the most disturbing moment of his 2-minute, 36-second rant.
"Why are we backing down to the government and not drawing a line in the sand? They're coming after our First Amendment constitutional rights! Well, check this out, this is one pastor that will not bow. Why?" he asks as he pulls a semiautomatic assault rifle into the frame and poses with the weapon. "Because my First Amendment right is guaranteed by my Second Amendment right. Think about that, ladies and gentlemen. It's time that we finally take a stand and say no more. We're not backing up any further. We're not going to allow a tyrannical government to come in and strip away our rights as Christians and try to demonize us so that they can make the Bible bigoted."
Here is the enemy: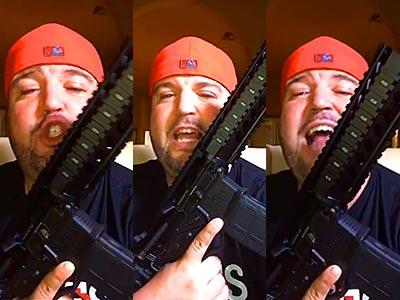 Mike Darlington




Posts

: 2


Join date

: 2015-07-19


Location

: Seattle, WA




---
Permissions in this forum:
You
cannot
reply to topics in this forum